Renbow's Crazy Color direct from London!
Funkyshop is bringing Britain's original Crazy Color Hair Dye to the U.S!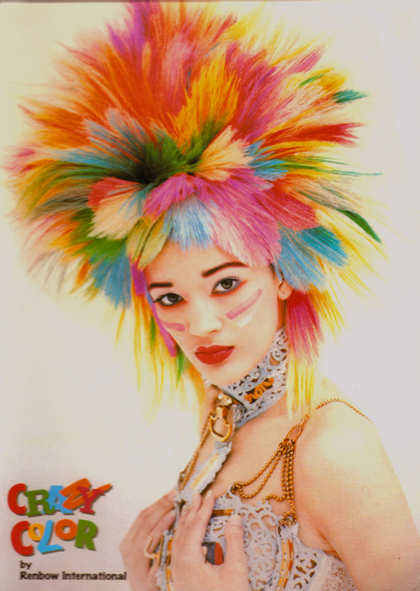 SEMI PERMANENT HAIR COLOUR CREAM
LIFE=ENERGY=VIBRATION=COLOURS
Generations have been drawn by the power of Colour
and for the past thirty years by the power of Crazy Color!
_____________________
Crazy Color from Renbow is a semipermanent hair dye which means it will last about
3-4 weeks. Each bottle contains 100ml of conditioning color. Vegetable based.
Crazy color will give lustrous transsent depths of color on natural (virgin) hair,
a hint of color on natural light hair, glowing colors on very light bleached hair.
For vibrant colors, hair must be bleached before application.
For best results hair should be porous, bleached, or tinted.
______________________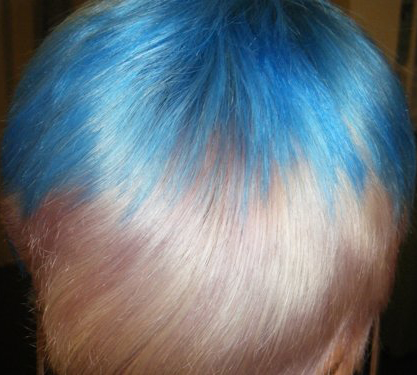 Crazy Color SILVER and SKY BLUE
FREE GLOVES WITH EVERY BOTTLE!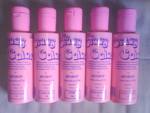 Crazy Color Cyclamen. OUT OF STOCK A hot magenta pink color which looks even pinker in the sunlight.
$8.48

Crazy Color Pinkissimo. Mwah! A cool toned yet brilliant pink.
$8.48

Crazy Color Capri Blue. OUT OF STOCK A rich lustrous blue that is neither purple or green toned.
$8.48
Crazy Color Fire.OUT OF STOCK Super bright and rich red.
$8.48

Crazy Color Canary Yellow. Out of Stock As bright as yellow can be. Not a golden yellow.
$8.48

Crazy Color Emerald Green. A lime green in sunlight, but has a hint of dark green too.
$8.48
Crazy Color Silver. Yeah! We said Silver! Shimmery silky silver.The hair must be bleached to blond before application. This pic is SILVER and SKY BLUE.
$8.48

Crazy Color Sky Blue. Out of Stock A lovely vibrant light blue- there's nothing like it! Hair should be light pale blond to get this shade. This pic is SKY BLUE in the front half.
$8.48

Crazy Color Peacock Blue. Out of Stock A deep turquoise unlike any other. Looks like teal when applied to bleached hair.
$8.48
Crazy Color Violette. A gorgeous rich velvety violet on pre-lightened hair. Deep purple inside, glowing violet in the sunlight.
$8.48

Crazy Color Aubergine. Out of Stock.A striking deep plum red hair color.
$8.48

Crazy Color Burgundy. A gorgeous deep pinkish purple.
$8.48