Special Effects Devilish Hair Dye Gallery!
Send us your pics!
Want to dye your hair Special Effects Devilish? Below are photos of those who have already dyed their hair special effects devilish and how they did it. Then once you've dyed your hair, send us a picture! Pictures are for use on our site only. We will not sell or distribute them to anyone else. Send pics of your whole head or just a small part. We cannot accept photos of other people without their permission. Include information about the product:
What brand of hair dye did you use?
What color or colors of hair dye you used. Please tell us just what you did- whether colors were mixed, or applied over each other, etc.
What color was your hair before you started?
Did you bleach your hair first?
How long has it been since you dyed it?
Provide your full name for permission to use your photo - you can tell us what name to put on the photo in the gallery.
You can send the pic(s) by supplying us the url location, your name or alias.
Or, send your pic as an attachment to this email.
We may need to crop the photo to fit our space. Desired image size is 300 height or less. If photos are much larger, we may need to crop the photo.
Susie- Hair Dye used: Special Effects Devilish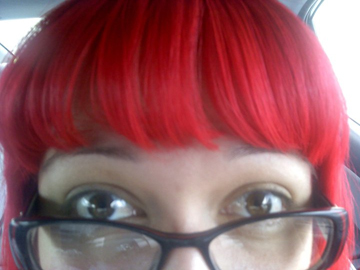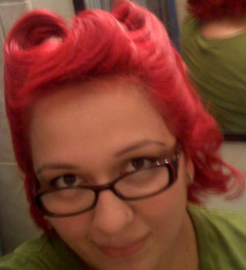 My hair was naturally dark brown.
I bleached it to a light golden orange color and dyed it with Devilish. It faded into a pinkish orange color. I then bleached it again about two months later and dyed it with Nuclear red.

Tee- Hair Dye used: Special Effects Devilish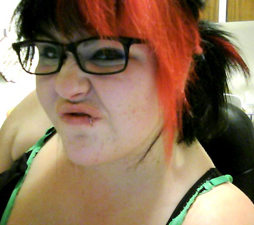 Hello! All I did was bleach and apply the colour provided. My hair was somewhat a light auburn, I had black hair for 6 years (dyed) and I got it lightened out at the hairdresser a couple of months before. I bleached the contour of my head for the turquoise, and for the red i just kept the section already dyed out for the turquoise and dyed the rest black. So basically the area where the red is, it used to be a very faded turquoise. For the red, I bleached it to try to get as much turquoise out In the photos provided they were perhaps 3-7 days from dying. The special effects is so amazing, even when it begins to fade it's still beautiful, the shades it leaves!
Jayne-Hair Dye used: Special Effects Candy Apple Red, Devilish, Cherry Bomb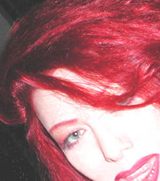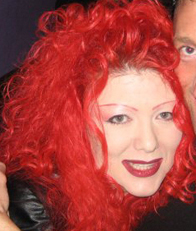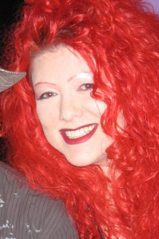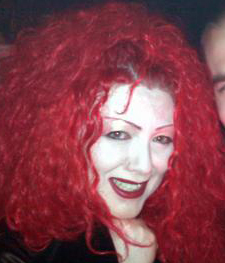 Hi, here are some photos of Special Effects hair dye in natural brightsun (it really glows!) as well as in bar lighting. I use a professional L'oreal MagiRouge "Copper Red" color to dye my long, darkbrown hair an orangey-red shade first, then apply the Special Effects over that. The color lasts a few weeks, fading gradually whenever I wash it, until it looks either pink or orange by the time I need to do my roots again. On average, I get about ten compliments a day on my hair, including many questions from people who want to replicate the color themselves. The photos show a random mix of Candy Apple Red, Devilish, and Cherry Bomb in varying proportions and the first two seem to fade less than the third. I only use permanent color at the base, to lighten the new growth, but reapply Special Effects all over each time, due to fading. I have tried other color lines like PunkyColor and Manic Panic, but found Special Effects to be the richest and longest-lasting.

-