Special Effects Hi-Octane Orange Hair Dye Gallery!
Send us your pics!
Want to dye your hair Special Effects Hi-Octane Orange? Below are photos of those who have already dyed their hair special effects hi-octane orange and how they did it. Then once you've dyed your hair, send us a picture! Pictures are for use on our site only. We will not sell or distribute them to anyone else. Send pics of your whole head or just a small part. We cannot accept photos of other people without their permission. Include information about the product:
What brand of hair dye did you use?
What color or colors of hair dye you used. Please tell us just what you did- whether colors were mixed, or applied over each other, etc.
What color was your hair before you started?
Did you bleach your hair first?
How long has it been since you dyed it?
Provide your full name for permission to use your photo - you can tell us what name to put on the photo in the gallery.
You can send the pic(s) by supplying us the url location, your name or alias.
Or, send your pic as an attachment to this email.
We may need to crop the photo to fit our space. Desired image size is 300 height or less. If photos are much larger, we may need to crop the photo.
Hannah- Hair Dye used: Hi Octane Orange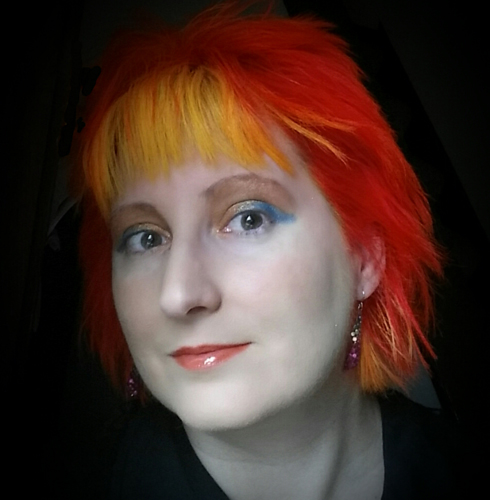 My name is Cat Wilder. I am the lead singer for the retro party band The Atomic Cats in Kansas City, Missouri. I decided I needed a new look for the stage and colored my hair with vivid results!

I was a platinum bleached blonde already, and I did a root bleaching refresher 3 days before doing my color. Then, I used Special Effects Hi Octane Orange on the body of my hair, and Electric Banana by Manic Panic (only until Special Effects starts making their yellow again!) on the bulk of my bangs and the underside of the back. Everything was foiled in all at once (with the help of my best friend) on dry hair, then rinsed and I added a color conditioner of argan oil. I LOVE the results, and will continue with it as long as I can.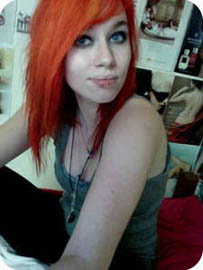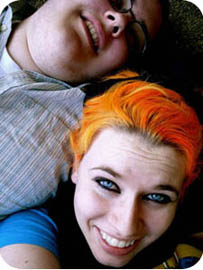 my hair was black and blue before this, bleached with 40vol. bleach until my hair
was a ridiculous yellow color but since orange has a yellow base it didn't matter.
this stuff lasts until you dye it something else. it's fabulous. My hair is almost always
a different color but I keep going back to hi octane every few months. I never mix it
with anything else. These pictures don't really show you how intense it is though, so
if you want something not quite so "BAM IZ ORANGE" i recommend napalm orange.
Jennie- Hair Dye used: Special Effects Hi Octane Orange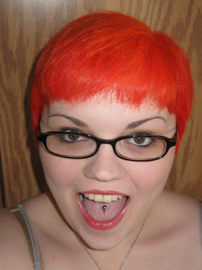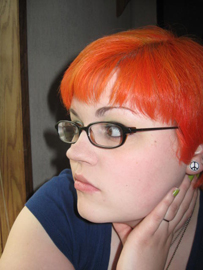 I dyed my hair with Special Effects Hi-Octane Orange. My hair was dark brown. I bleached it to a really light yellow blond and then put the hi-octane orange right over it. I love how it looks. I dyed it 3 weeks or so ago and it has hardly faded at all. I'll be using the half bottle I have left soon because my roots are showing, but I don't even mind that so much. It still looks awesome and I get compliments all the time on it. :) The first picture is the day of dying and the second is 3 weeks after.
Claudia- Hair Dye used: Special Effects Hi-Octane Orange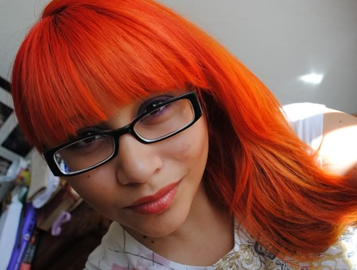 First pic: Hi-Octane Orange over permanent red dye. Before Bleached to a pale blonde. This is after one month.

Sasha- Hair dye used: Special Effects Hi-OctaneOrange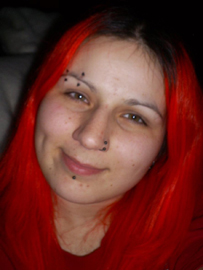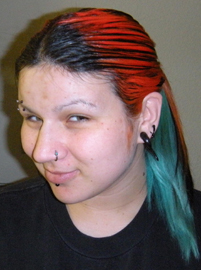 Pic 1 Special EffectsHi-Octane Orange
Natural color is black as seen in roots
Bleached hair first 2 bleachings and then toned
This is about a week after it was redyed.
Pic 2-Special Effects High-Octane Orange, Manic Panics Atomic Turquoise. Natural color black as seen.
Hair bleached twice before dying.This is about a month after dying, I only wash my hair in the coldest water i can stand with shampoo, no conditioner, will cause my hair to get greasy too fast, and i only wash once it starts looking like it needs it.

Cristina- Special Effects Hi-Octane Orange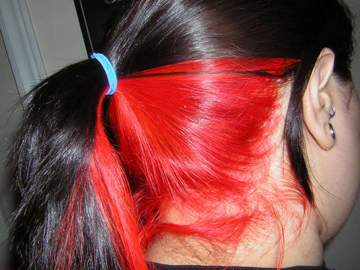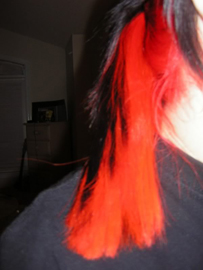 These pictures are of Special Effects Hi-Octane Orange. They are freshly dyed over light yellow-blonde bleached dark brown hair. On me, the colour started out very red, but faded to a more orangey colour after a couple of washes. It stayed vibrant the entire time I had it.

Claudia-Hair Dye used: Special Effects HI-Octane Orange, Napalm Orange, Manic Panic Purple Haze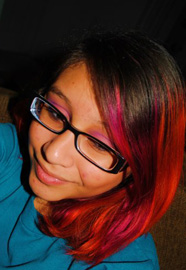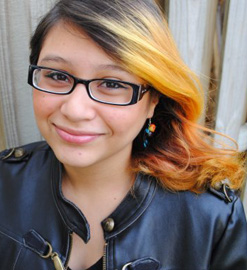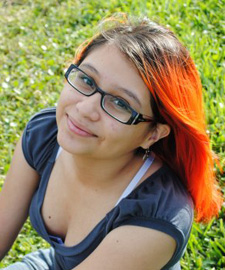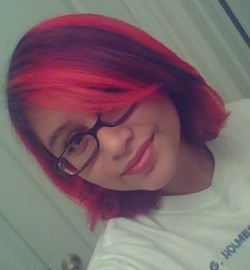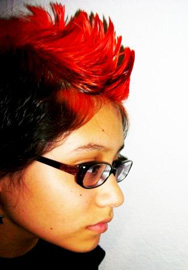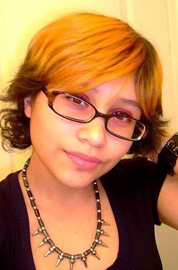 My name's Claudia and I have been dyeing my hair for about four years now.
I last bleached my hair a year ago. I'm letting my hair grow out to bleach the roots.
The first picture is my latest dye job. I layered Special Effects Hi-Octane Orange and Manic Panic Purple Haze all throughout my hair, but applied a raspberry dye on my fringe (Pic. 1). I slept with the dye on. It was applied over faded Hi-Octane (Pic. 2), and lasted two weeks before noticeably fading.
Before (1), I had Hi-Octane all over my hair (Pic. 3), which I applied over faded Hi-Orange and Purple Haze (Pic. 4). To achieve the latter, the purple was applied as a horseshoe across my head. I kept that on for about two hours, and it lasted a week before the purple was turning pale blonde.
I used to have faux hawks in Special Effects Napalm Orange (Pic 5), which I would grow out (Pic. 6), re-dye, and re-cut.
This is a lovely website, and I'm happy to share these pictures with everyone

i used hi-octane orange, iguana green, blue mayhem, pimpin purple, and atomic pink! 2 washes
I love SE colors they last long a fade pretty if applied correctly. Joyride is one color i'm not happy with!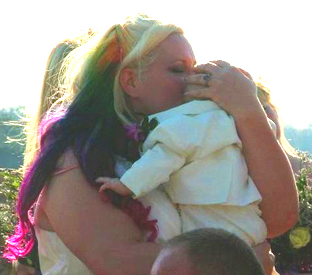 Ayana-Hair Dye used: Special Effects Nuclear Red, Hi-Octane Orange, Atomic Pink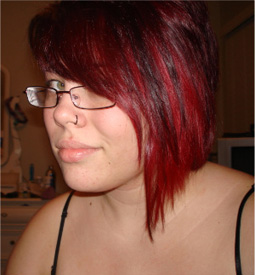 I mixed different portions of each color until I got the color I desired, tested it on a white paper towel, then let it sit for an hour under no heat. My hair was a medium copper red all over and a little darker in the front and a lot lighter on the side from pre-bleaching. This picture was taken about an hour after I had colored my hair.
Daniela-Hair Dye used: Special Effects Hi-Octane Orange and Manic Panic Electric Banana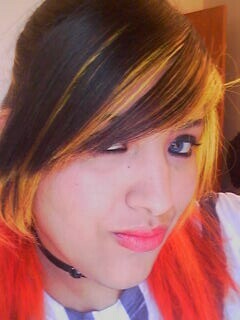 I've been using manic panic and special effects for over four years now and haven't found anything better. I'm a stylist in Texas and do many clients that prefer to have bold vivid colors, and this line comes to mind first. I've pretty much experienced every color, but these seem to be my favorites, manic panic electric banana and special effect octane orange. My hair is naturally a level two (which is natural black/dark brown) I bleached out my hair I want to say twice to get to this level of intensity. I used bleach with 30 volume the first time, waited about two weeks then bleached again with 40 this time. Wouldn't recommend anyone to do that unless they are doing conditioning treatments. This picture was taken about a week after I had dyed my hair which is approximately 2 washes. Color lasted about a month before I had to reapply it.
Amy K's Hair stylin- Hair Dye used: Special Effects cherry bomb and Hi-Octane Orange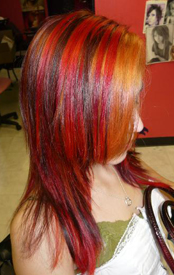 Hi im a stylist - here are pictures from my clients.
This was done on bleached hair mixing the cherry bomb and hioctane orange together
dR. Travma of TranceDoll Inc:
Hair Dye used: Special Effects HI-Octane Orange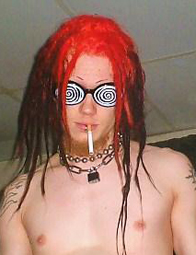 He's naturally blonde, but has been dying hishair black for many years. So we started with black hair. dR. has not had to update his color for nearly eight weeks! We ONLY use Special Effects brand intense hair colors! Nothing else has ever come close in longevity, intensity and eco friendly-ness! We recommend SFX to anyone coloring hair!
Patricia-
Pic 1 Special Effects Atomic Pink, HI-Octane Orange, Sonic Green, Blue Mayhem,
Punky Colour Plum, Spring Green, Bright Yellow, Turquoise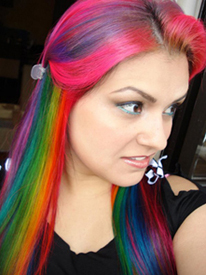 I´m Patricia from Brazil and here´s a picture of my hair.
My hair is black and I bleach it first (to a golden blonde).
The picture shown was taken the next day.

Jeff LaBar of the bands Cinderella and Freakshow again- Hair Dye used: Special Effects Nuclear Red, Hi Octane Orange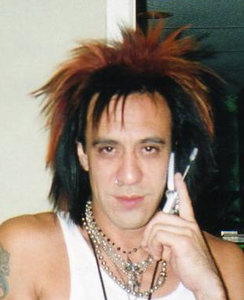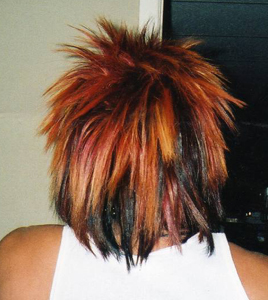 1st my hair was dyed back to black. Then chucks were bleached from the top of my head down.
Next, Tracey added the red to the top and orange next in the middle fading to the bleached tips,
creating what she calls a "fireball". Personally I think it looks like a sunset.
The pictures shown were taken the next day.


-Sarah
Hair Dye used-Special Effects Hi-Octane Orange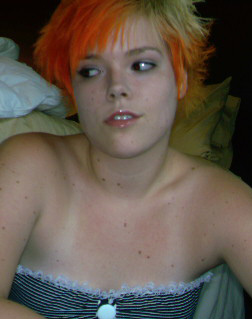 This pic was taken about a month after dying my hair with Special Effects Hi-Octane Orange. I bleached my hair to a yellowy-blonde before and i didnt need to retouch the orange for close to 2 months.
Here's Sarah again, this time-
This is with Special Effects brand Atomic Pink on the bangs, Hi-Octane Orange on the sides, and a mixture of Limelight and Fishbowl on the top, all over pre-bleached hair. First pic is three weeks after dyeing. The little pic is right after dyeing.