Special Effects Hair Dye Hot Lava Pics!
Send us your pics!
Want to dye your hair Special Effects Hot Lava? Below are photos of those who have already dyed their hair hot lava and how they did it. Send us a picture! Pictures are for use on our site only. We will not sell or distribute them to anyone else.
All photos should be Manic Panic, Special Effects, Punky colour, Fudge hair dye, or you can send a pic of temporary hair color with BWild or Team Color Hair Spray. Send pics of your whole head or just a small part. We cannot accept photos of other people without their permission. Include information about the product:
What brand of hair dye did you use?
What color or colors of hair dye you used. Please tell us just what you did- whether colors were mixed, or applied over each other, etc.
What color was your hair before you started?
Did you bleach your hair first?
How long has it been since you dyed it?
Provide your full name for permission to use your photo - you can tell us what name to put on the photo in the gallery.
You can send the pic(s) by supplying us the url location, your name or alias.
Or, send your pic as an attachment to this email.
We may need to crop the photo to fit our space. Desired image size is 300 height or less. If photos are much larger, we may need to crop the photo.
Mouse-Hair Dye used: Special Effects Nuclear Red, Iguana Green, Hot Lava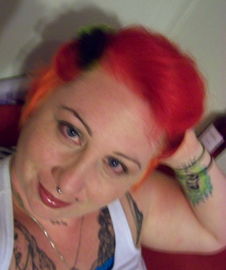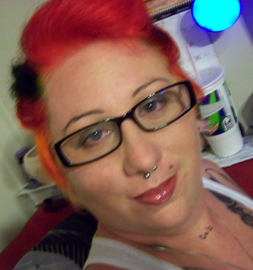 Hi I'm Mouse I've been using special effects since 2000. I've been using Nuclear Red as a primary colour since 2003, This colour is one of the most spectacular colours out of the choices I love all and i have several!
In these pics I used Nuclear Red on top Iguana Green,and Hot Lava!!! Thank you for your time, because i've had a blast!!!
Ruanne- Hair Dye used: Special Effects Hot Lava, Punky Flame, Pillar Box Red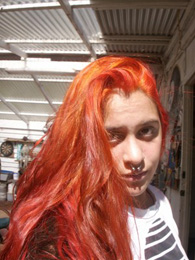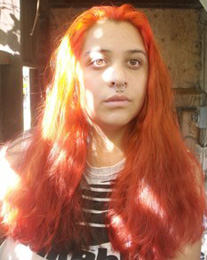 Flame was the main color while Pillar Box Red was used on the ends, and Hot Lava was used on the upper portion of hair to frame my face. I have dark brown hair, so my hair had to be bleach twice to barbie blonde. I used the Punky Color bleach kit both times. Color was applied immediately after second bleach treatment. Pics are from the next day after the first wash.
Sarah- Hair Dye used: Special Effects Hot Lava, Blood Red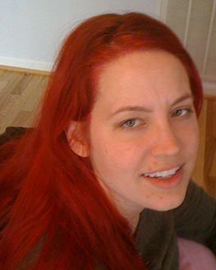 I started off with reddish blonde hair. This color is the result of mixing Hot Lava with Blood Red. The picture was taken the day after dyeing. The color is super bright and looks completely different under different kinds of light. It skews toward Hot Lava with interior lights and toward Blood Red in the sunshine.